Welcome to Infinity
~ Endless Possibilities ~ Eternal Transformation ~
---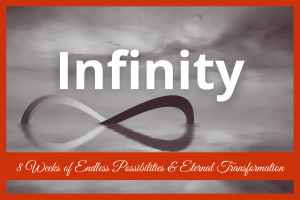 Infinity
is a journey of  taking our visions beyond what we already know to be possible.
This Program is been created as a result of deep personal healing and being open to receive inspiration from a higher power.
The premier of Infinity was very private, as I was in hiding about how these concept had been 'downloaded' to me.  For the next year, i her these concepts being though left and right, while I was holding Infinity closed to the public. 
No more hiding!
I'm proudly announcing:
Infinity is open!
The Infinity program is for everyone who is ready to stretch their mind beyond current circumstances and to those who are ready to

co-create with infinite energy.
It's time to go to the next level of creation and impact.
You are invited to play in the quantum field and learn how to co-create with infinite energy.
Are you willing to open yourself up for
eternal transformation?
Are you ready to open the door to
endless possibilities?
Let's go on this eight week journey
of playing inside the quantum field
and co-create with the Universe.
Join the Infinity!

you
We already upgraded the original recordings:
Clean up the signal glitches in each video


Edit out student's shares (protecting their privacy)

we added eight guided self discovery journals to support you in having a personalized experience.
What you'll learn:
How to unblock the Receiving gate. 

Masculine and Feminine Energy
The Energy of Money.
Emotional Intelligence in deep healing.
Reprogramming at energetic level.
Creating the future You.
Expanding and Collapsing the time.
Achieve Exponential success.
The impact of Compounding life's gifts.
Deeper connection with self, other and infinite Intelligence.
What you'll get:
8 wide and deep sessions

hosted by Simona Spark 

each session is about 90 minutes long.

videos are released

weekly

to give you

space for implementation and integration
the sessions are filled with multiple life-changing concepts.
8 guided self-discovery journals
FREE future upgrades (automatically add to your dashboard)

Lifetime Access
Your heart is speaking to you.
Your soul is calling you for more.
Are you ready to heal?
Are you ready to express your magic?
Are you ready to let go of what is not yours?
Are you ready to release shame, doubts, and constriction?
Are you ready for your dreams?
And ready to become who you were always meant to be?
Let's expand into Infinity!




One Payment
(save $110 USD)
 $1,222 USD 
Payment Plan
Three monthly installments 
$444 USD
Are you ready to connect?
Are you committed to expand?
 Are you ready to evolve?
Join the 

INFINITY

today!