Do The Damn Thing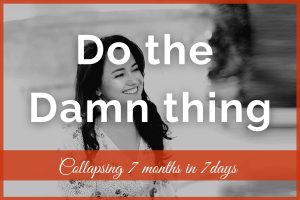 ---
Do the Damn thing
is a seven day workshop designed to
support you daily with discovering, deciding,
mapping,

and launching what you want
to create and put into the world.



Why you are here?
–> You know what you are doing, and you probably been doing it for a while and still no results!
–> You are dealing with all kind of held backs: procrastination, fears, competition, and seems like every time you overcome one, another one pops up from nowhere.
Let's have it done, already!
–> You know that what you do is not ALL that you can do.
–> You know what you are not supposed to do what and yet still doing it.
Are you ready to actually get it done?
–> When you show up and do the thing you want to do, everything changes!
–> When you are supported every step you continue to move forward.
Do you want guarantees? You got it!
–> I know you are capable of more.
–> I know you have all you need to get it done.
If you show up every day for this workshop and complete each step but at the end you still don't have it done, I fully refund you!
Let's
Do the Damn thing
today!
You are invited in a space of capability and possibility.
You are supported to pull up your sleeves, discover your magic, show up for your dream,
deal with what's coming up, and do the damn thing!
The Content:
Day 1- Prep work.
Day 2- Fear and challenges.
Day 3- What's your magic?
Day 4- Negative feedback.
Day 5- Impactful product.
Day 6- Visibility & Authenticity
Day 8- Expand your business/life.
What you'll get:
7 daily live sessions
7 workshops led by

  Simona Spark

instant support during training

the sessions are about 30 min
7 guided self-discovery Workbooks
Lifetime Access

to replays

Free future upgrades